10 Inspiring Projects From 2022

Our community of Woodland Mills product owners is made up of some of the most creative and talented people out there. We love seeing your creations and hearing your stories. 2022 was filled with hundreds of unbelievable projects, so it was difficult to narrow it down to just a few. Here are 10 awesome projects that our customers completed using one of our Woodland Mills Portable Sawmills.
Sandy's hens lay way more eggs than they can eat. She wanted a nice way to sell them to the locals from her property. With help from her HM126 Portable Sawmill, she was able to create this adorable house for her fridge, keeping it safe from the rain and the elements. Everything is sold on the honour system, so there is even a drawer on the bottom for people to put their money. The little window and flower box make this not only functional but a cute addition to her garden.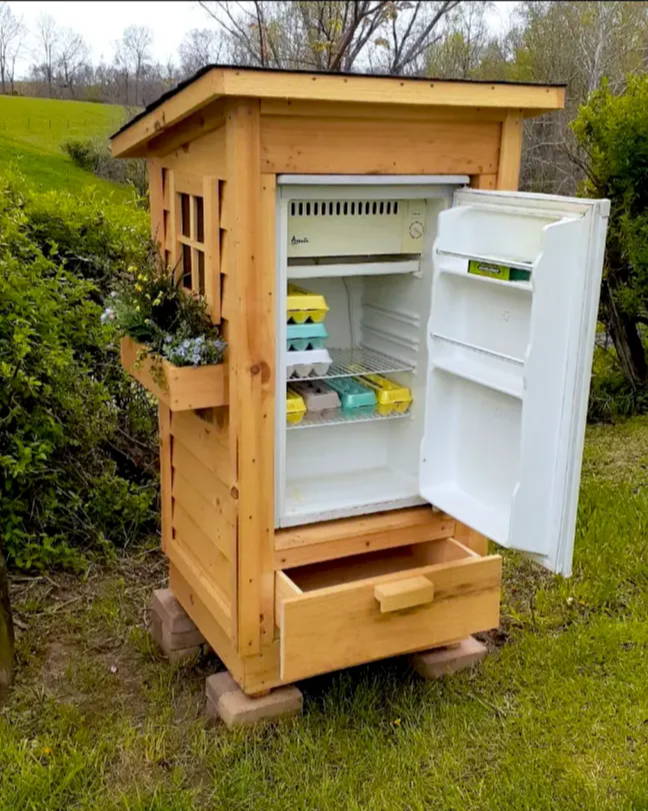 Jeremiah is an artist who creates some unique pieces including fish sculptures from his old sawmill blades. This bench, milled on his HM126, is just one example of the raw talent that he possesses. Hand-carved and painted, Jeremiah puts a lot of love and care into his work. This bench will surely add character and life to some lucky person's porch or garden.
Check out some of his other creations on Instagram @miahscustoms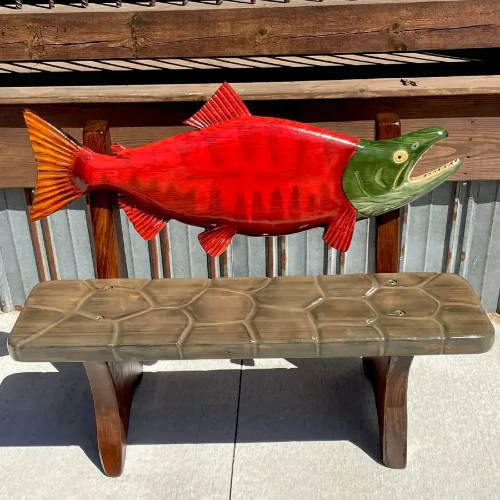 Jake uses a medley of different wood to make stunning trays, cutting boards, and art pieces. Each design is one-of-a-kind and made by hand. Jake uses his HM130MAX to repurpose local wood which is then intertwined with exotic lumber. This piece was custom-made to fit by a client's front door as a catch-all for their keys and wallet. It is made from White Oak, Beech, Padauk, and Black Walnut. This beautiful tray has a little bit of everything mixed in.
See more pieces like this on Instagram @_made_by_grain_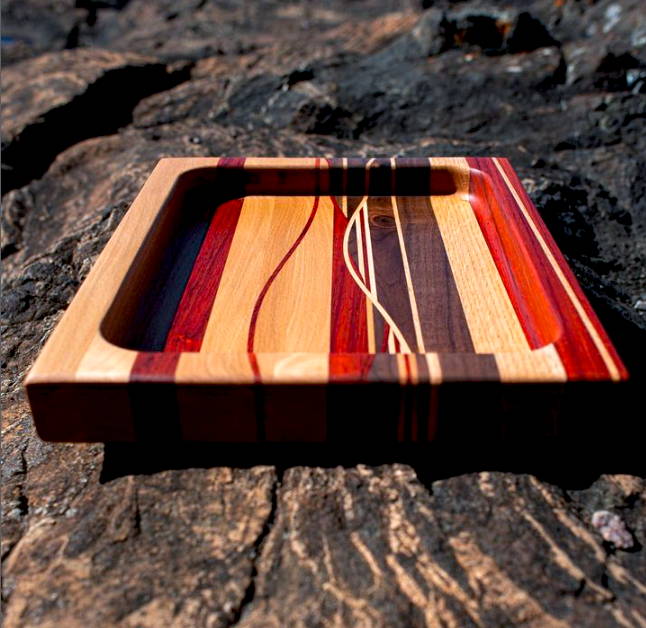 When Gary decided to build an outhouse on his land, he pulled out all the stops. Not only is it functional, but it is also very beautiful. Built from Poplar, Oak, Cedar, and trimmed in Maple, he created an inviting space to have a little privacy in the woods. It even has a sizeable storage room in the back. Gary liked that he could save on lumber costs by milling all his own local logs on the HM126.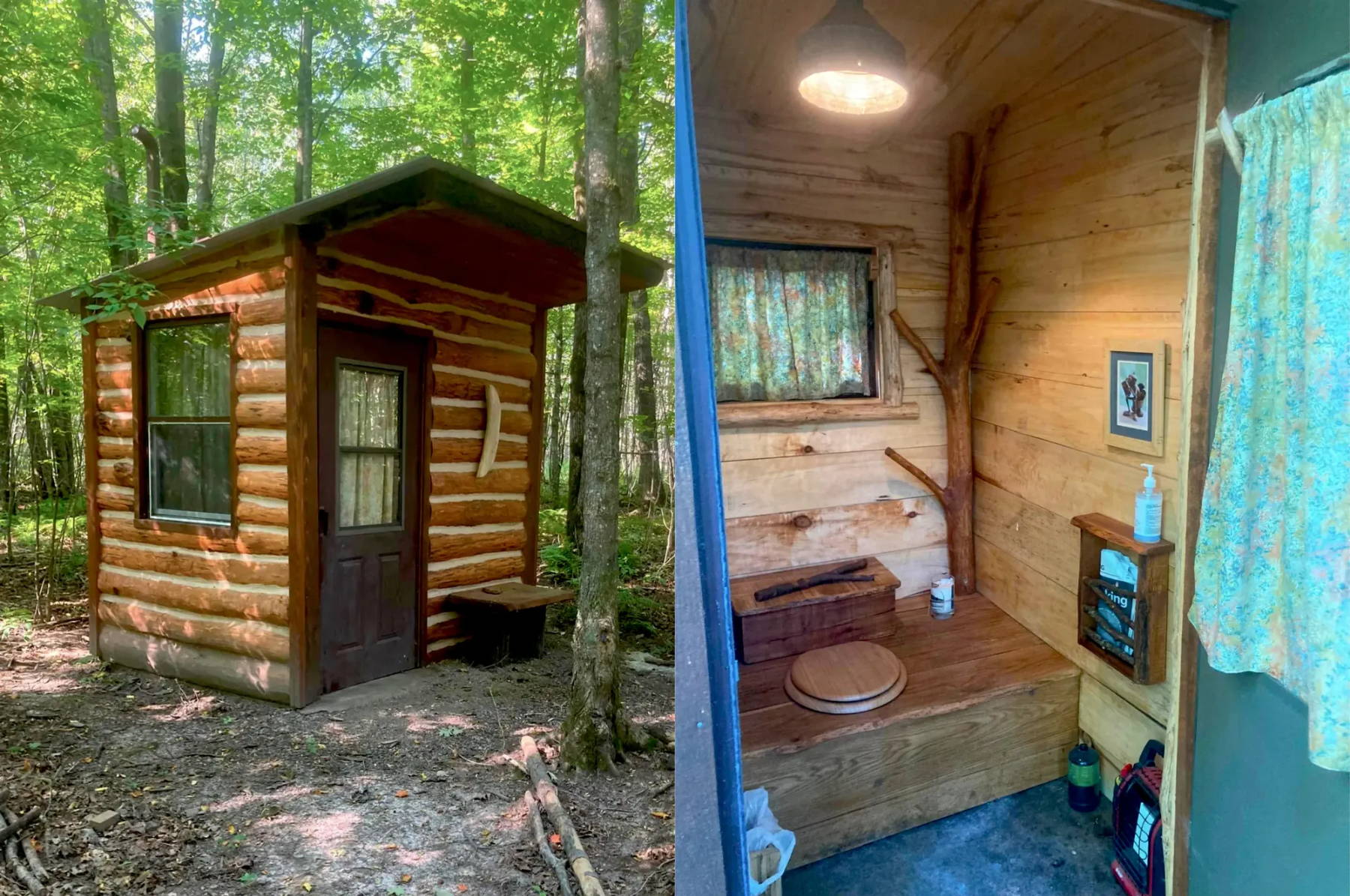 Robert milled so much lumber on his HM126 that the leftover cut-offs were starting to pile up. Instead of cutting them into firewood, he decided to build an awesome tree fort for his daughter. Using 4 existing trees on his property as posts, he attached the scrap wood as walls and made a small roof. His daughter loves having this new space to play, and there are still lots of cut-offs left to burn in their campfires. Best of all, the project cost no money!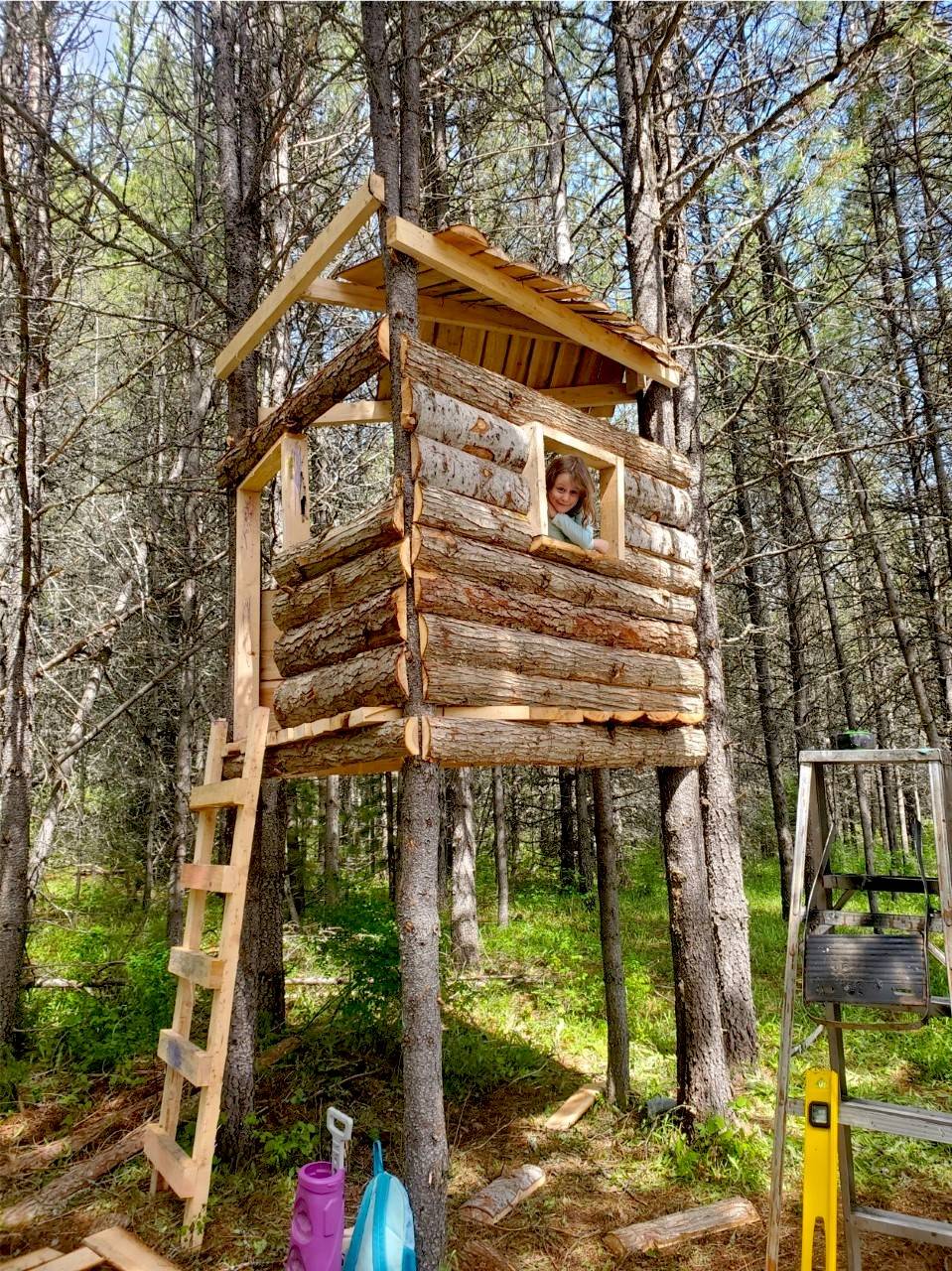 Sean and Karin outdid themselves with this bathroom renovation. It has the perfect rustic vibe while still feeling luxurious. The HM126's work can be seen throughout the bathroom including the stunning live edge counters and the half logs framing the shower. It's that attention to detail that makes this room feel less like a bathroom and more like a spa.
Visit www.sunsetgemssawmill.com for more inspirational projects by Sean and Karin.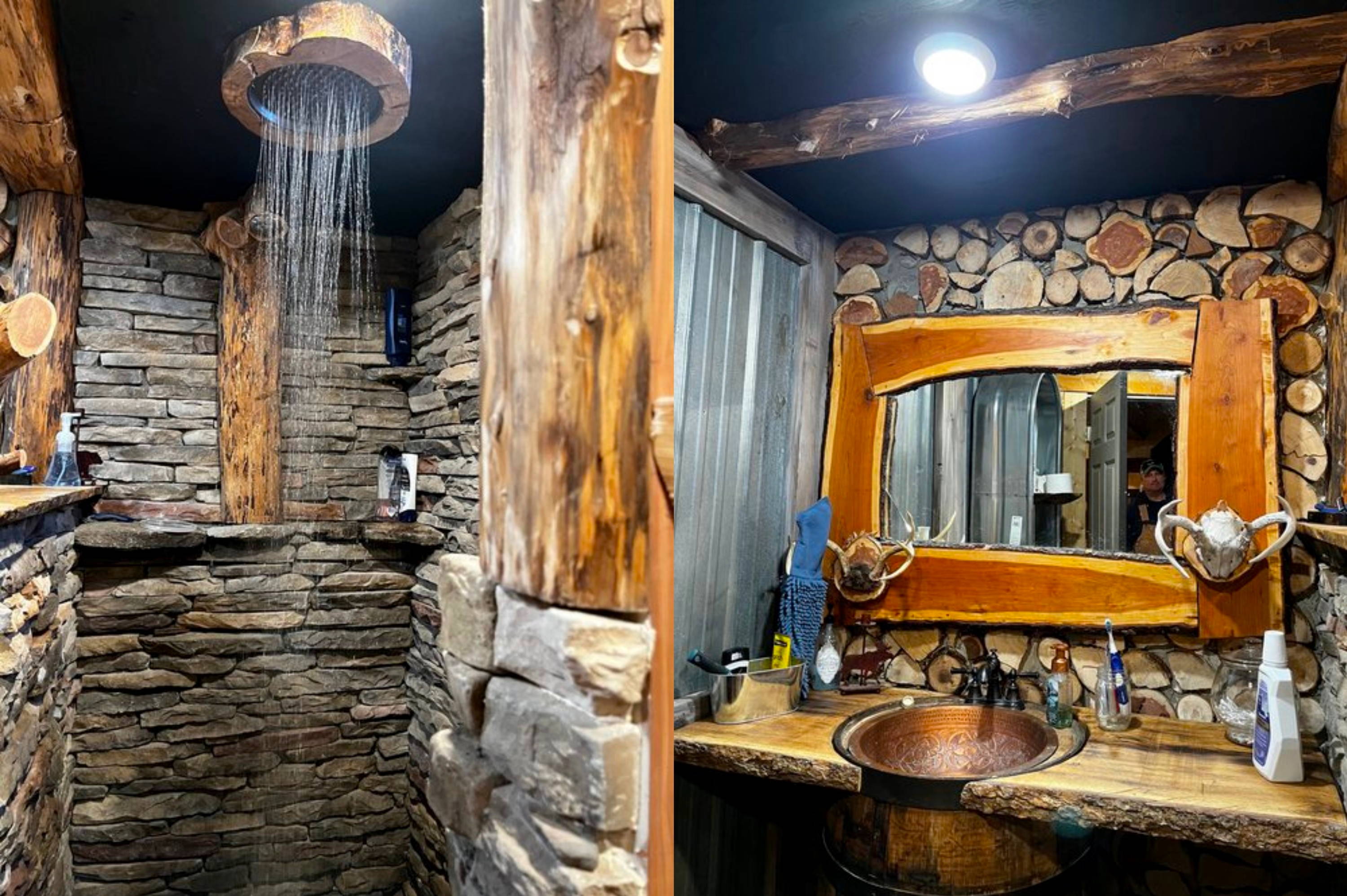 Erik had some Pine, Oak, and Ash logs that were destined to be firewood. Instead, he decided to mill them on his HM122 and turn them into something useful. His Avocado plants were in need of a safe place to thrive over the winter. Using the logs from his property and the salvaged windows leftover from a remodel, he made a nice-looking house for his plants at no cost.
A New Meaning to Motor Home
Wolfgang built this playhouse on the back of his 1947 Ford farm truck. All the logs used for the project were salvaged and milled on his HM126. There was no need for commercial lumber for this portable project. Any child would have a blast playing in this house, and the green slide off the back makes it even more fun.

The "Old School" School House
Slava has a unique way of building. Other than his HM126, he prefers to work exclusively with antique tools from the 1800s that he finds online. Using the traditional "Tongue in Groove" timber framing method allows him to build structures that can easily be disassembled and relocated. Slava designed and built this adorable little schoolhouse for his children. They use it as a library to store all their books and a quiet place to study. It will eventually be taken down and reassembled on their other property.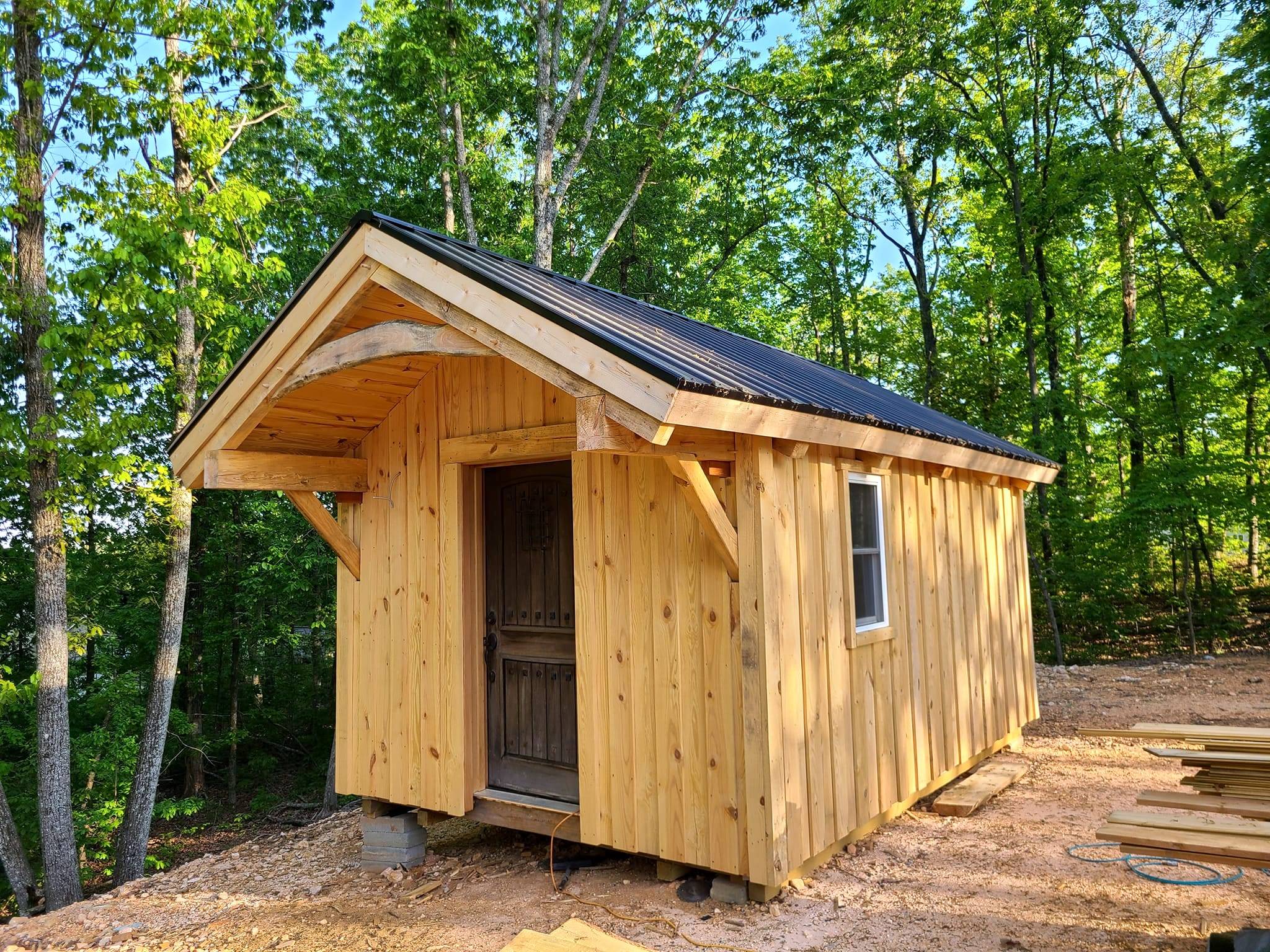 Nothing Boring About These Boards
Over the past 5 years, Dave has had a blast milling with his HM126. These unique charcuterie boards are some of the most remarkable things he has created. He uses resin to enhance the already beautiful grain of the lumber, adding colour, texture, and shine. These functional boards are pieces of art.

It is always so amazing to see the impressive projects that are shared in our community of sawyers every year. The display of passion, support and ideas amongst our proud Woodland Mills owners is truly inspiring. We can't wait to see what you will come up with in 2023!