The 2022 Port Perry Santa Claus Parade

Port Perry is a beautiful historic town located along the shoreline of Lake Scugog. With gorgeous parks, charming boutiques, and family-owned businesses, it has a small-town feel while still being close to the city. We here at Woodland Mills, are proud to be located in Port Perry and be part of this very special community.
When we heard that the Scugog Chamber of Commerce was once again organizing the Port Perry Santa Clause Parade, we jumped at the chance to take part. A group of enthusiastic employees created a parade planning committee and began brainstorming float ideas for this year's "Rockin' Christmas" theme. Immediately visions of guitars, 80's hairstyles, and Elvis' trademark dance moves leapt into our heads. We wanted to come up with a design that showcased our company's fun side, as well as the products that we are so proud of.
First, we needed something to pull. Josh, one of our owners, happened to have a giant red hay wagon. We wanted to show off one of our woodchippers, so we chose the WC68 to sit merrily on top of the float. What better place to fit our Christmas tree than sticking out of the infeed shoot? We couldn't possibly leave out our prized HM126 Portable Sawmill so we made a plan to pull it along with our float. Mock-ups were made and then it was time to get building.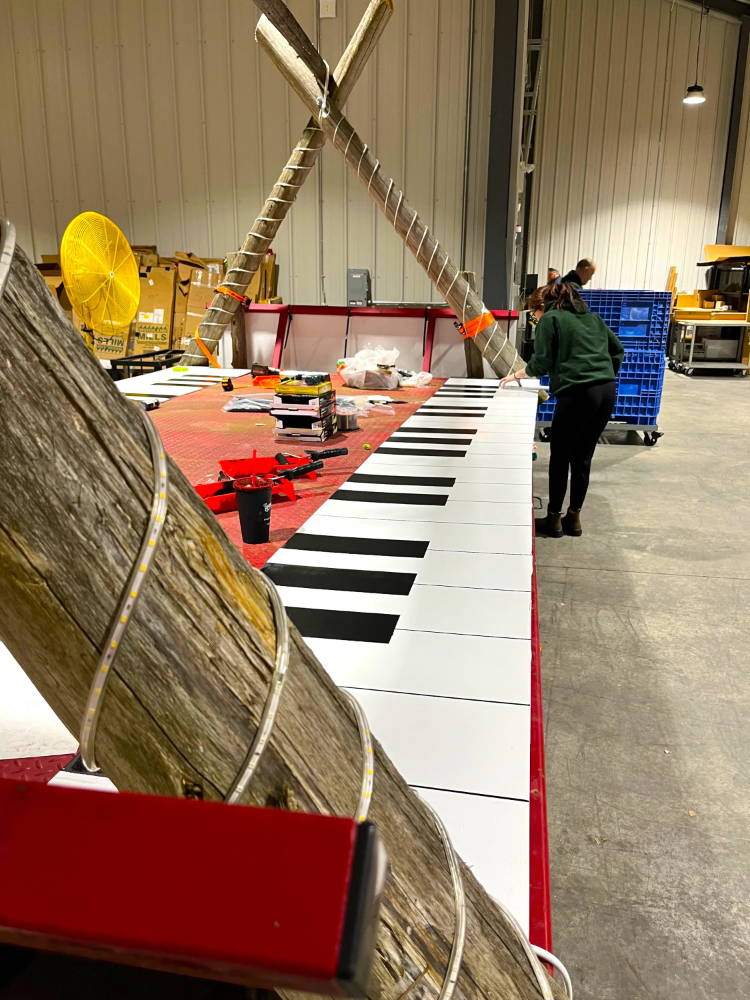 We ordered supplies, including tree ornaments that were shaped like small vinyl records. This would tie in well with the "Rockin' Christmas" theme. With the parade starting at 5 pm and continuing into the evening, lights were essential, and boy did we use them. We strung alternate red and white lights around the wooden pillars for a candy cane look and hung warm white curtain lights on the overhanging post.
The Christmas tree was lit in the chipper with care with hopes that the ornaments soon would be there. Unfortunately, the shipping was delayed but we quickly found a solution by hanging CDs instead. The lights reflected beautifully on the disks, a happy accident.
Our committee worked long hours painting our live-edge wooden signs by hand and building giant piano keys to hang from either side of the wagon. With many of our staff excited to share this experience with their families, we installed 3 long logs for the children to sit on during the parade. With finishing touches done on the wagon, lights and a large sign were added to our mill. We were ready!
The day of the parade was a chilly one. We all bundled up in our warmest festive wear and met at the Port Perry fairgrounds early for a tailgate pizza party and hot chocolate. Along with many children, there were two dogs in attendance, happy to finish up the uneaten pizza crusts. Even with the cool winds, everyone was in good spirits. We handed out matching light-up Christmas necklaces and inflatable electric guitars. The guitars brought out our inner rock stars just in time for the announcement that the parade was starting.
The children all settled onto the float, the lights glowing beautifully when Josh put the truck in drive to pull the float forward. Suddenly, we were in darkness. We certainly did not expect a problem like this. Staying positive, we all jumped into problem-solving mode. After a few minutes, it was clear that this was not going to be fixed quickly. We needed a new power supply. So not to hold up the line, we carried on in blackness. Luckily one of our team had a buddy who lived around the corner from the Fairgrounds and he agreed to meet us along the parade route with a power supply. It wasn't long until our hero arrived! It worked! We were back in business.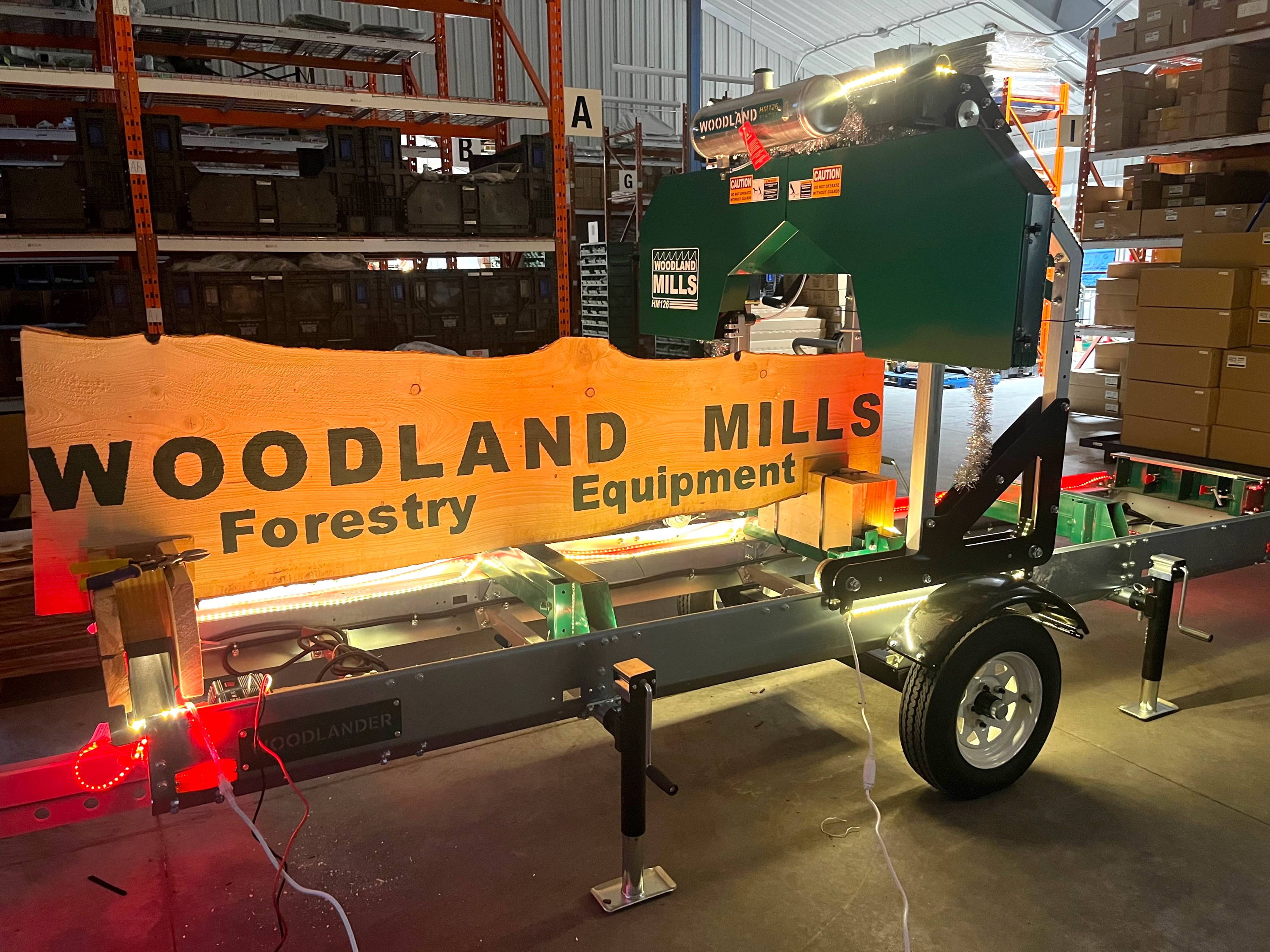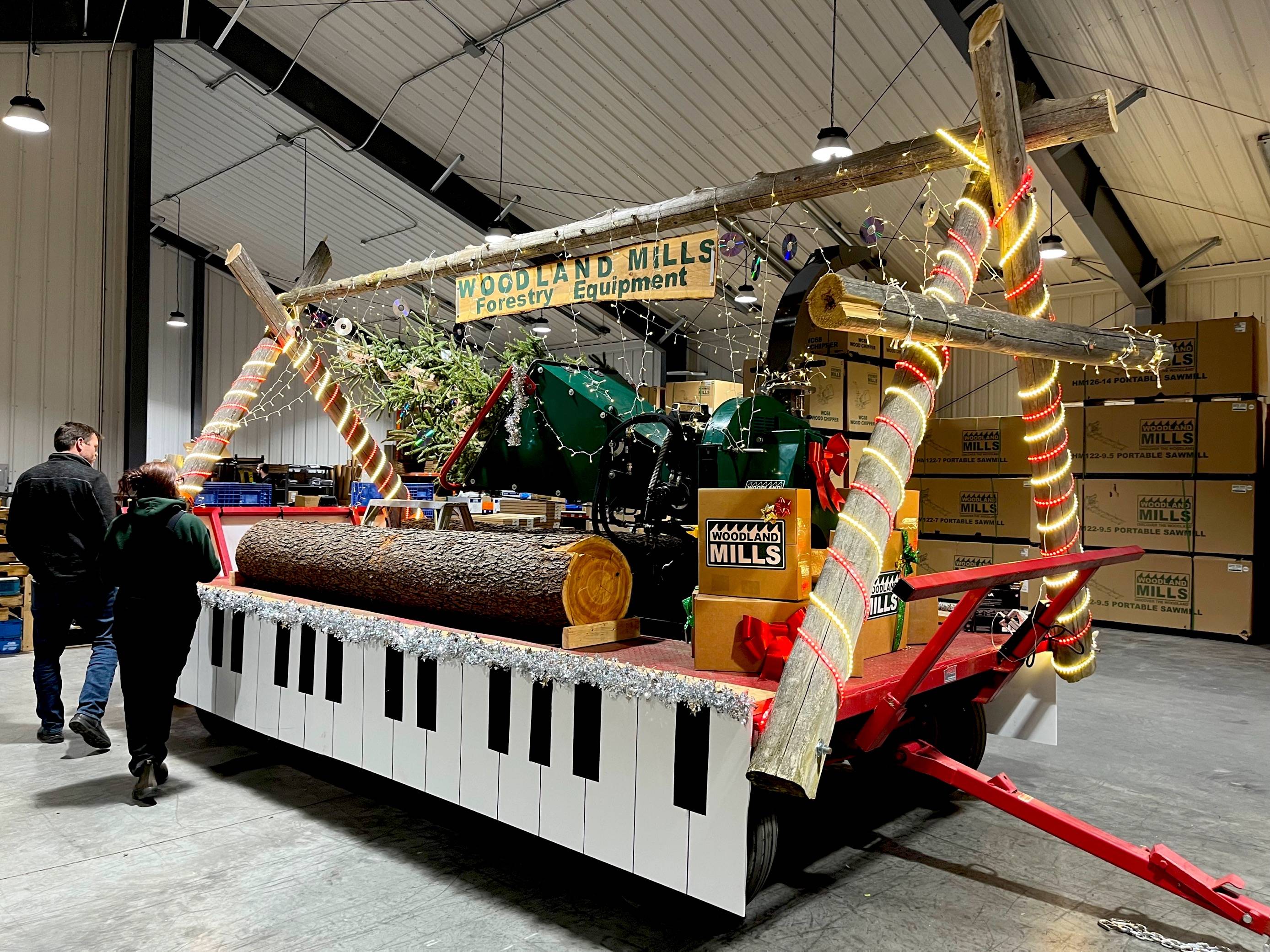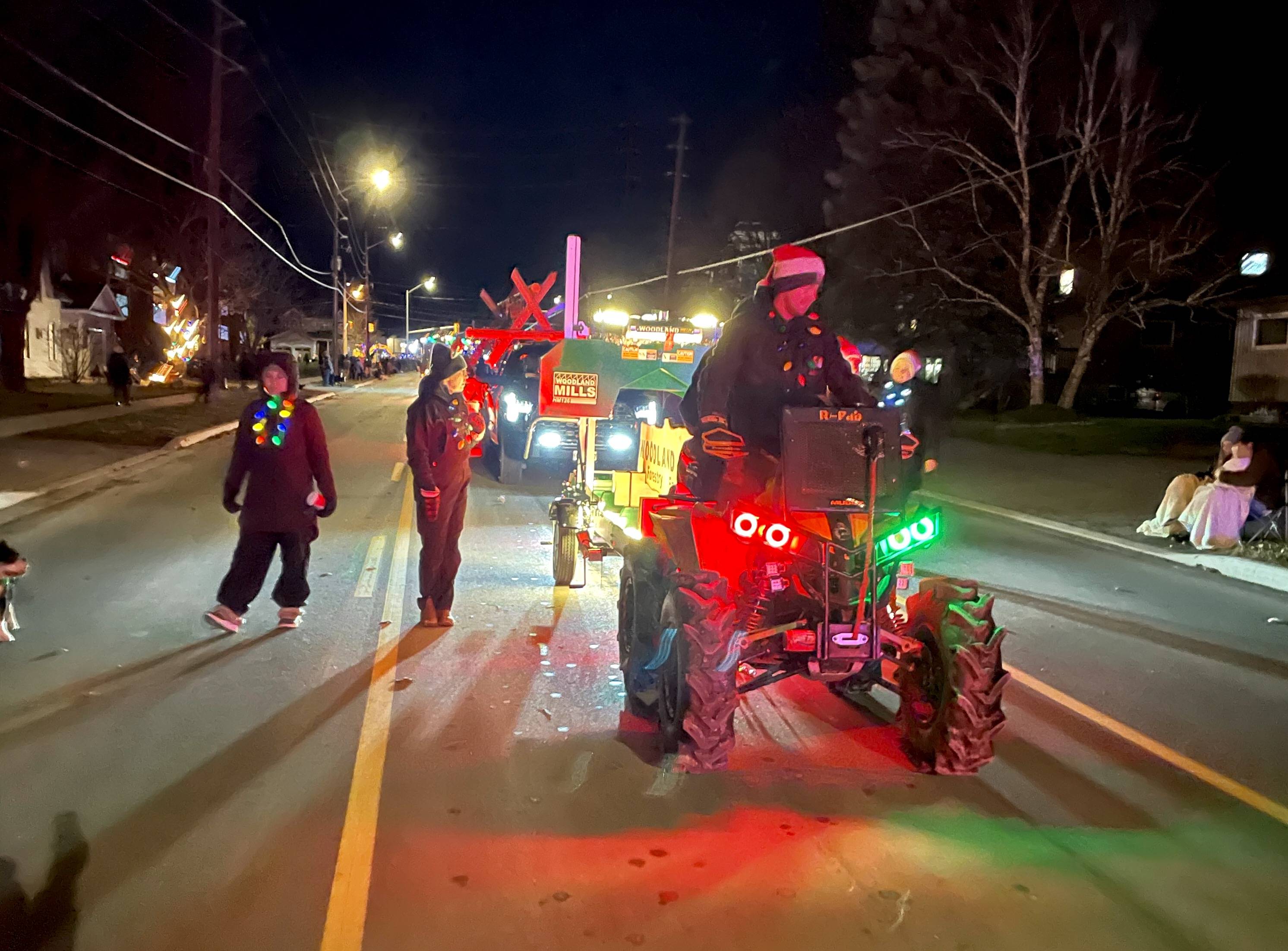 Up front, pulling our beautifully lit HM126 was a glowing 4-wheeler, complete with red and green headlights. Every few minutes the driver would stop and rev the engine, at the request of kids in the crowd. The families would laugh and cheer every time. Occasionally we would spot an old friend or hear our families cheering us on. It was so amazing to see such a big turnout for this event and not just the viewers. This year was the biggest parade Port Perry has ever hosted. With 55 floats and over 600 people walking in the parade, it was not hard to feel like you were part of something special. The loving energy of the people waving back to us truly filled our hearts with the spirit of the holiday. The children who were walking with us, although we feared they might get tired, were excitedly greeting all those around them and loving every minute of this community's tradition.
On Monday, when we were all back at the office, everyone was talking about what a wonderful experience the parade had been. Later that night, we got some surprising news. We received the award for the "Best Overall Float". Word spread quickly and to say we are honoured is an understatement. It goes to show that with a good attitude and the right team, anything is possible. We are so grateful for all those who came out to support the continued tradition of the Santa Clause Parade and are very proud to be a part of the Port Perry Community.