Against the Grain Outdoors

If you are looking for one of a kind artwork for your home, Against the Grain Outdoors will deliver. From Totem poles to wooden bowls, everything is made by hand and is completely unique. Andrew Shouwstra and his wife Shannon use their HM126 to mill custom live edge and dimensional lumber to order.
Also for sale in their shop are personalized signs, cutting boards, serving trays, and much more. The thing that sets them apart? The amazing chainsaw carvings that are all handmade by Andrew himself.
He guessed that they would one day be running a family business like this one. It all started when Shannon's father, Roger, decided that it would be nice to build a little cabin on his 100-acre property in Barry's Bay. He ordered a Woodland Mills HM126 portable sawmill to help him out, but never found the time to open it. It sat for months, still in its crate, until Andrew offered to set it up for him. Andrew tried out the mill and absolutely loved it.
When Shannon started posting pictures of the mill on Social Media, they began getting messages from people wondering if Andrew could mill some logs for them, as well. The requests were so frequent that in January 2020 the couple started a business and called it "Against the Grain Outdoors". They were still working full-time at Roger's construction company but ran their business after hours.
Back then the company mostly consisted of milling custom lumber orders, but when Andrew found himself laid off from the construction company for a couple of weeks, he decided to try his hand at chainsaw carving. Andrew was always very creative but chose to go to trade school rather than following his dream of attending art college to pursue his drawing. Being both outdoors and artistic, chainsaw carving seemed like the perfect creative outlet. With the help of some online videos, Andrew completed his first bear carving in 2 weeks. He had found his new hobby.
Andrew began milling custom signs for his wooden creatures to hold, making "Welcome" statues the new popular product in their shop. In August 2021, Shannon and Andrew quit the construction company and started working at their shop full time, 7 days a week. Now Andrew can carve that same bear in about an hour, but he doesn't stop there. He creates all sorts of animals, trees, and spirit face. He has started doing custom orders, as well, from creative signs, totally unique benches, and memorial statues to commemorate past pets. Andrew will even do on-site carving if you have a tree stump that you would like turned into a piece of art.
Andrew and Shannon swear by their HM126, saying that their company would not be possible without it. It is safe to say that Roger will probably not be getting his mill back any time soon. As Andrew's skills improve, he has been able to mill any shape or size lumber that he needs to attach to his statues, making them even more impressive. A dragon is already pretty amazing, but to add spread wings takes it to a new level.
Their products can be Ordered Online, but Shannon and Andrew like to go out into the community and meet people at farmer's markets and craft shows where they do live carving demonstrations, raffles, and fundraisers.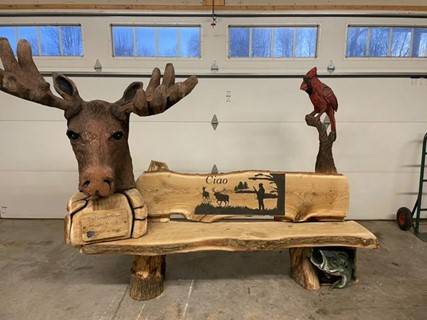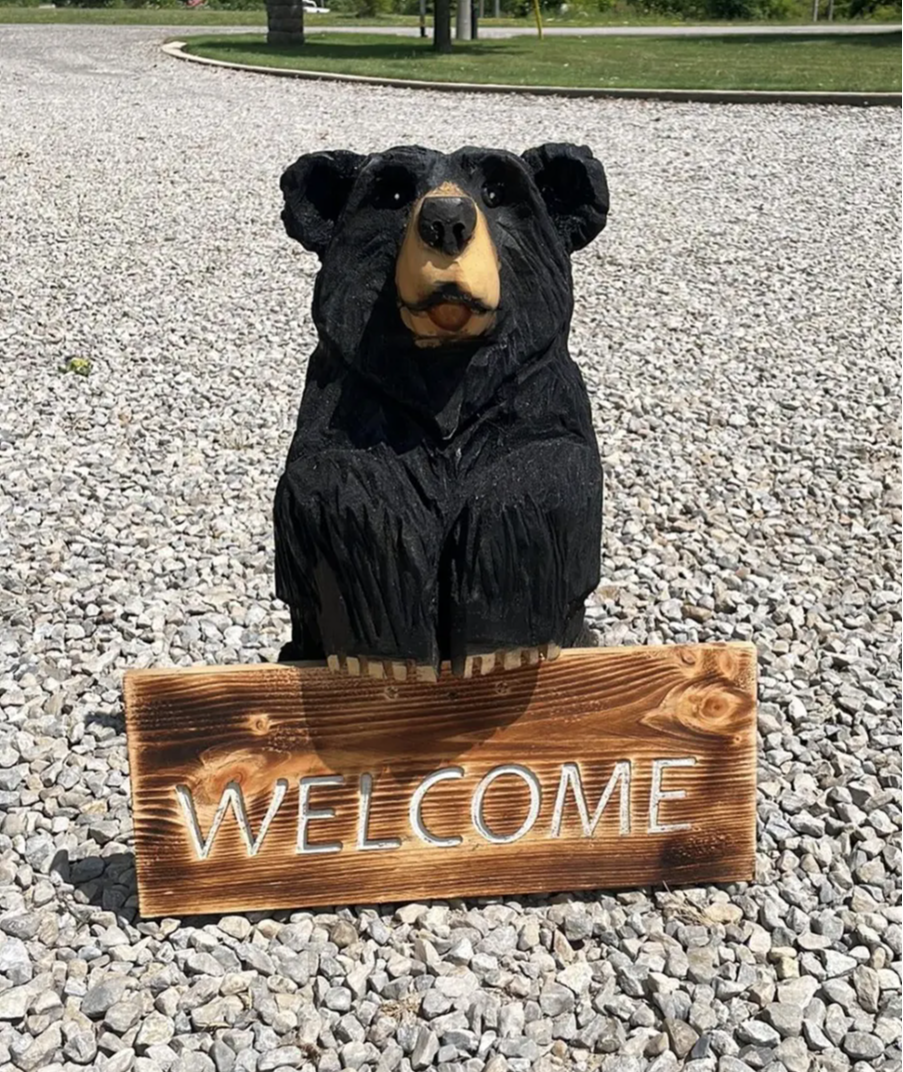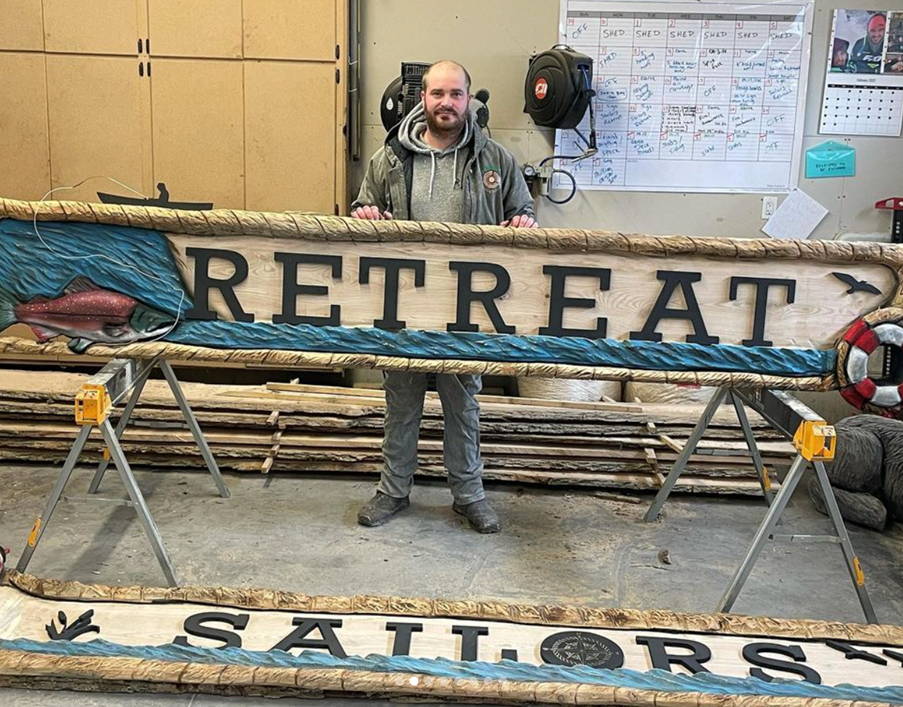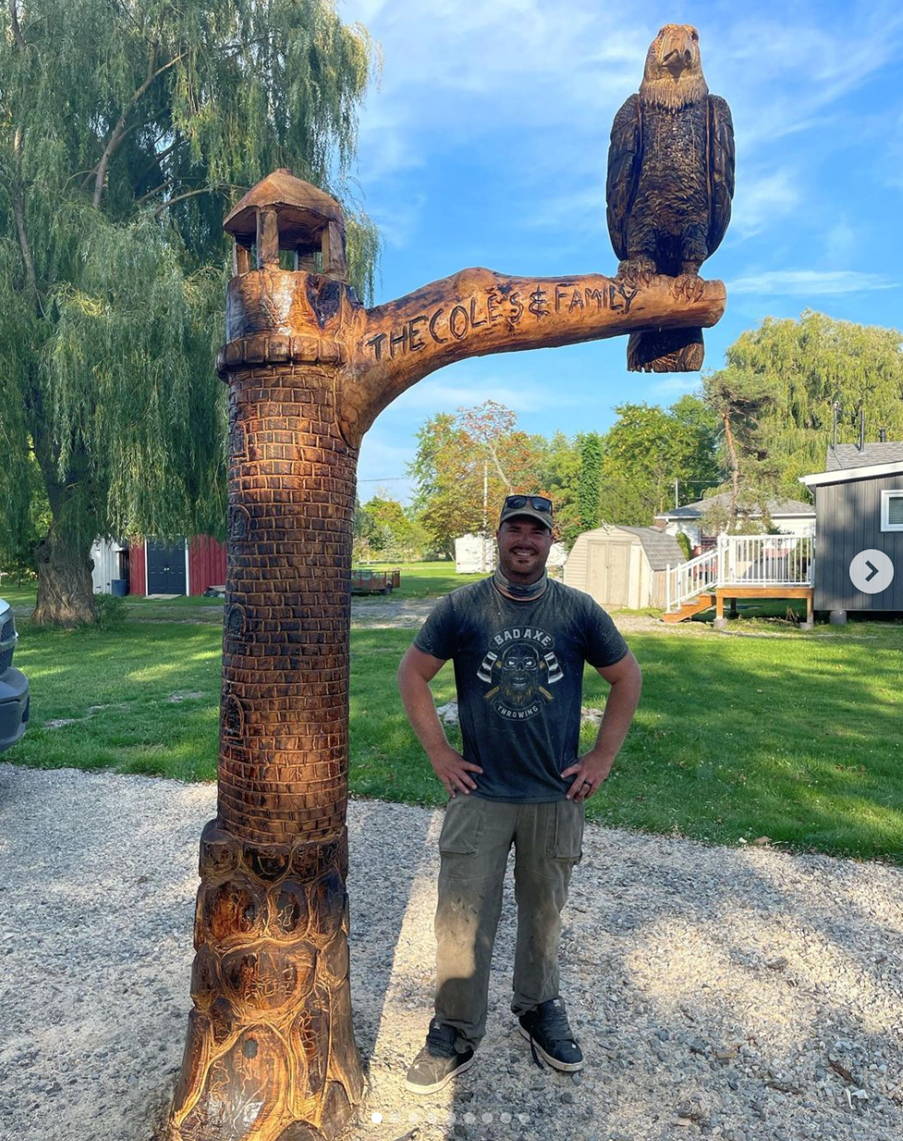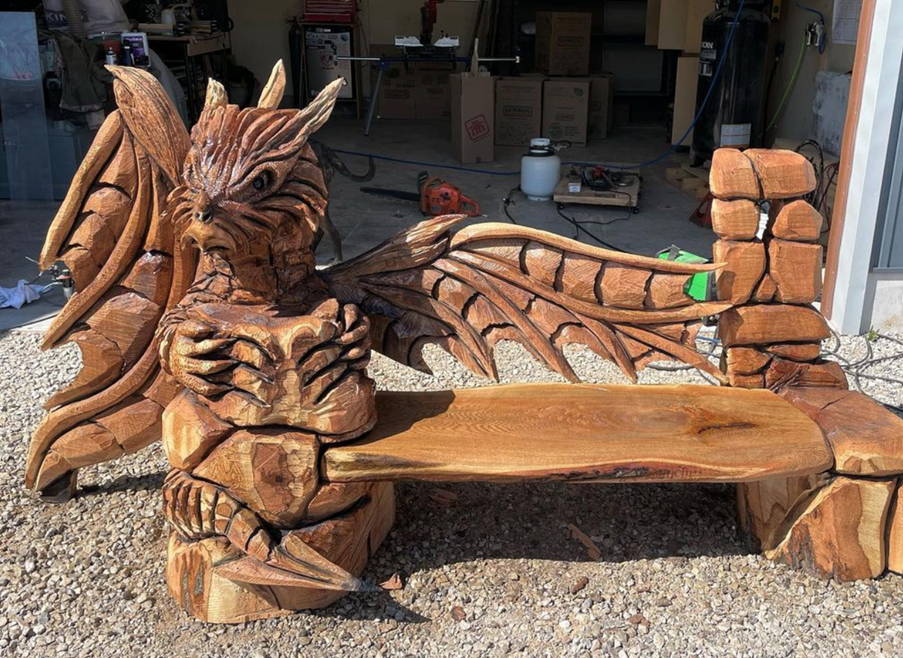 Recently, the two ordered the HM130MAX Portable Sawmill, which they will use to build a little storefront on their new property in Lanark Ontario. Their new acreage allows them to source and mill their own wood, giving them even more freedom to be creative and focus on what they like to do.
Thank you Andrew and Shannon for sharing your story!