Chris; An Entrepreneurial Spirit

Oregon has always been home for Chris. He and his wife, Michelle, are raising their daughters with plenty of fresh air and nature on their beautiful farm. When Chris' work wanted to move him far from the home that he loved, he decided it was time to branch out on his own. He started his company 'Huson Excavation and Tree Service LLC.' in 2019. With some new machinery, including an HM130MAX portable sawmill, there was no limit to what he could accomplish.
Huson Excavation and Tree Service
Chris has a background in power line clearance, construction, and excavation. With his unique set of skills, he can take on a variety of jobs to help grow his business. From driveways to drain fields and everything in between, Chris always strives to do the highest quality work for a fair price.
Chris loves the opportunity to take on clearing jobs because there are usually logs left over that he can repurpose elsewhere. With his portable sawmill, he transforms scrap logs that would otherwise be disposed of and turns them into lumber for other projects. He often uses his hand-sawn lumber for landscaping, fence posts, and even renovating his clients' homes.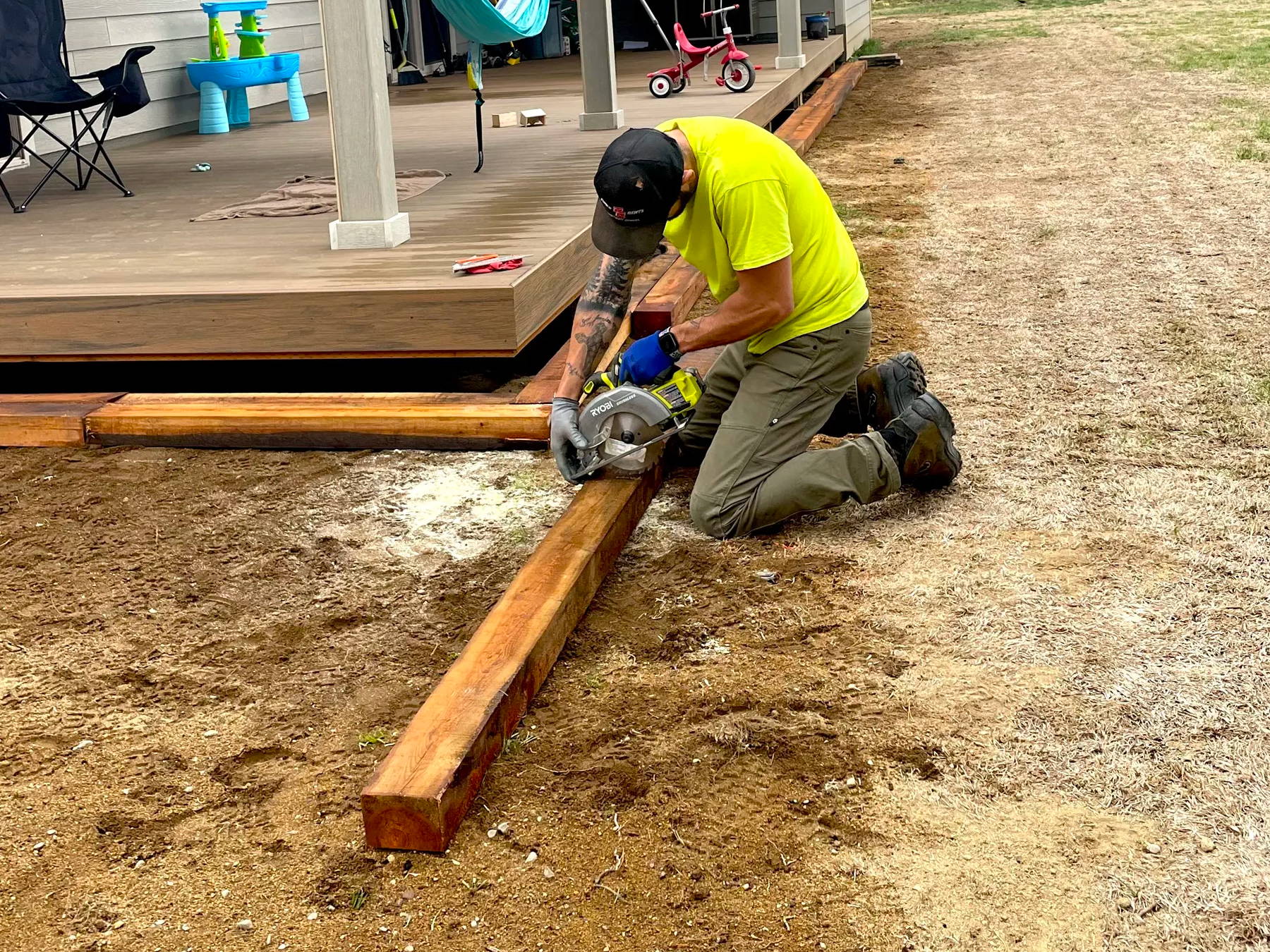 Aside from his excavation company, Chris has a passion for building and flipping houses. He and his wife keep an eye out for fixer-uppers or empty lots that they can renovate and sell. The two recently finished building their latest house on an empty local lot and sold it for a nice profit.
According to Chris, working with a good home inspector and doing most of the contracting work himself has played a big part in their success. Even more than that, the financial benefit of making his own lumber from the trees on his property has been key. This was especially true during the pandemic when lumber was harder to find, and the prices were inconsistent. Chris loves that he is no longer limited to traditional board sizes and can custom cut everything to suit his needs.
The convenience of having a portable sawmill on his property makes it very easy and inexpensive for Chris to work on his own projects during his downtime. Having access to so much lumber has also saved him quite a bit of money.
Choosing to mill his own decking helped Chris save about $2000 when building a new trailer. When it was time to tear down his shed, instead of paying to discard all the material, he was also able to reuse the beams by milling them into a border for his driveway.
Last summer, Chris transformed the entrance to his home by building stone steps with a beautiful wooden frame. Friends and visitors assume that it cost thousands of dollars when, in reality, it was extremely inexpensive to make with his own lumber.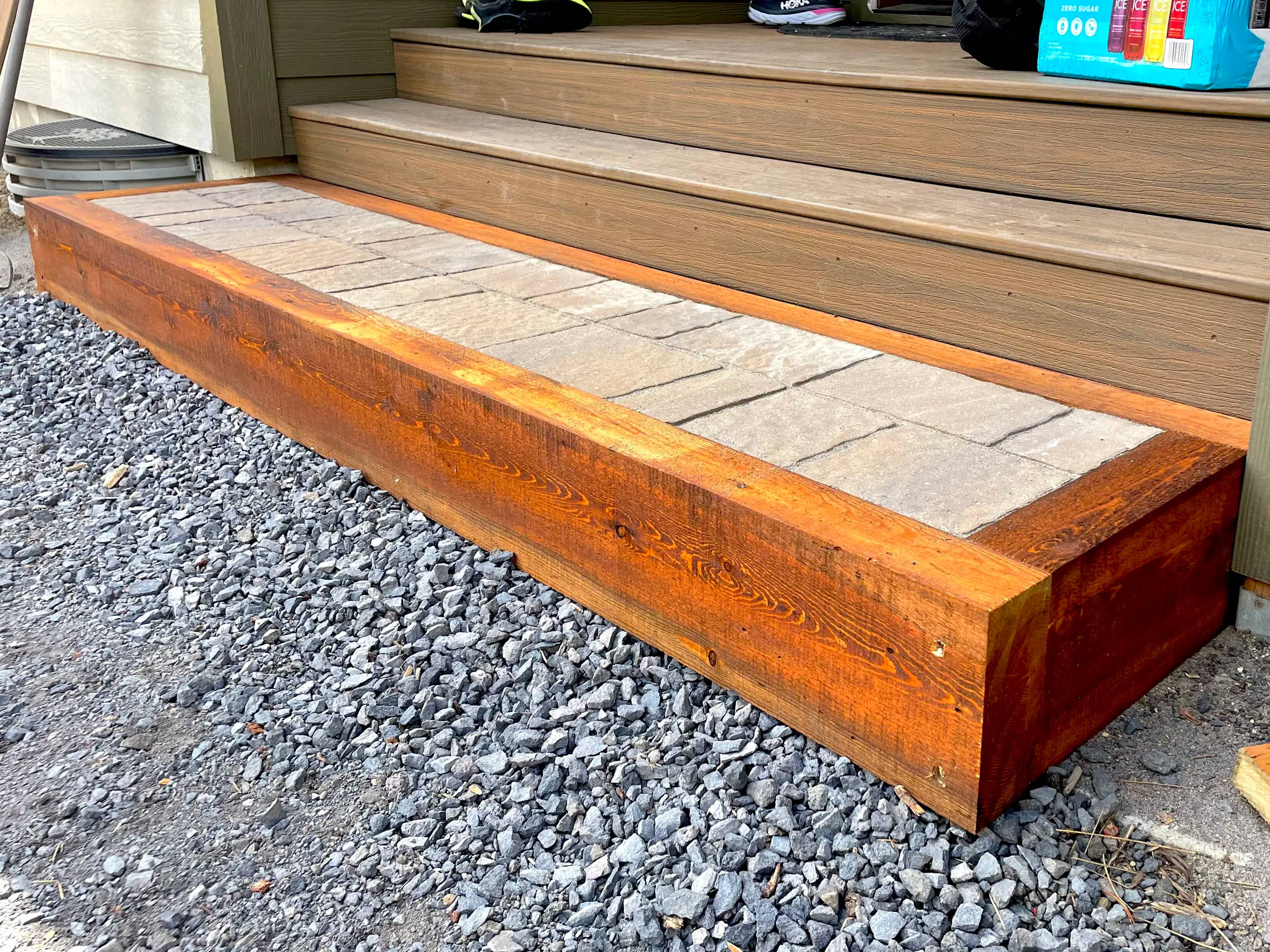 Not only is Chris saving money on projects at home, but because his HM130MAX is an essential piece of equipment for his business, he was able to write off part of the cost when he bought it.
Chris decided to buy a Woodland Mills product because, as a business owner himself, he knows the importance of quality craftsmanship and putting the customer's needs first. He appreciates that his mill is well-built and thoughtfully designed from the features to the lower price point. Assuming that he would need a newer sawmill to install the Sawmill Power Head, he was impressed to find out that it was designed to be compatible with the older HM130 and HM130MAX models, as well.
These days, Chris can't imagine his life without his portable sawmill. He continues to make upgrades to his home and flip houses in his spare time. Chris and Michelle would like to one day build a home to rent out, as well. It's just a matter of time before the right piece of property pops up. As Chris continues to grow his business and explore new opportunities, he shows that with a passion for your craft and an entrepreneurial spirit, you can accomplish great things.