Chris is a talented and creative individual who is not afraid to think outside of the box. His favourite creation to date is the golf simulator that he built in his yard. Having a steady supply of wood allows him to bring any of his awesome ideas to life. He considers his HM122 Portable Sawmill to be one of the best purchases he ever made.
15 years ago, while on their honeymoon in Nova Scotia, Chris and his new bride, Sasha, fell in love with the province and decided to make it their home. Since childhood, Chris has wanted to raise his family in the country so that his kids could have the same upbringing he enjoyed in rural Ontario. The couple found a waterfront cottage on the south shore of Nova Scotia to live in. Over the years they have raised their children with all the ATV rides, water sports, and family campfires that come with cottage living. Spending time together as a family is important, something that Chris has valued since boyhood.
When he was young, Chris would help his father with all sorts of construction projects. They would spend hours building together, his father teaching him everything he knew about woodworking. Chris even helped his dad to construct their family home in the woods where they lived until he was a teenager. All grown up and with some new projects in mind, Chris decided to buy a portable sawmill so that he could take full advantage of the trees on his property rather than purchasing expensive lumber. After some research online and binge-watching videos from the "Sawing with Sandy" YouTube channel, he chose to buy a Woodland Mills HM122 Portable Sawmill. He liked that Woodland Mills seemed to go above and beyond for their customers while also being reasonably priced.
Once the HM122 was set up, Chris' first order of business was to build the mill a shelter. When that was finished, he added an 8'x16' extension on the back to use as a solar kiln, capable of drying hundreds of boards at once. This was when Chris began to realize what a goldmine his HM122 was for making lumber. Ready to tackle anything with seemingly unlimited lumber at his fingertips, more project ideas started coming to him. Sasha also had some suggestions for his next undertaking.
As the adage goes "happy wife happy life". At Sasha's request, Chris whipped up an 8'x8' steam sauna out of poplar wood. He doesn't often shy away from a challenge, so when it came to the stove, Chris saw it as the perfect opportunity to learn the art of welding. Not only is the sauna a great place to warm up after a swim but it has also helped Sasha with a medical condition that affects her lungs.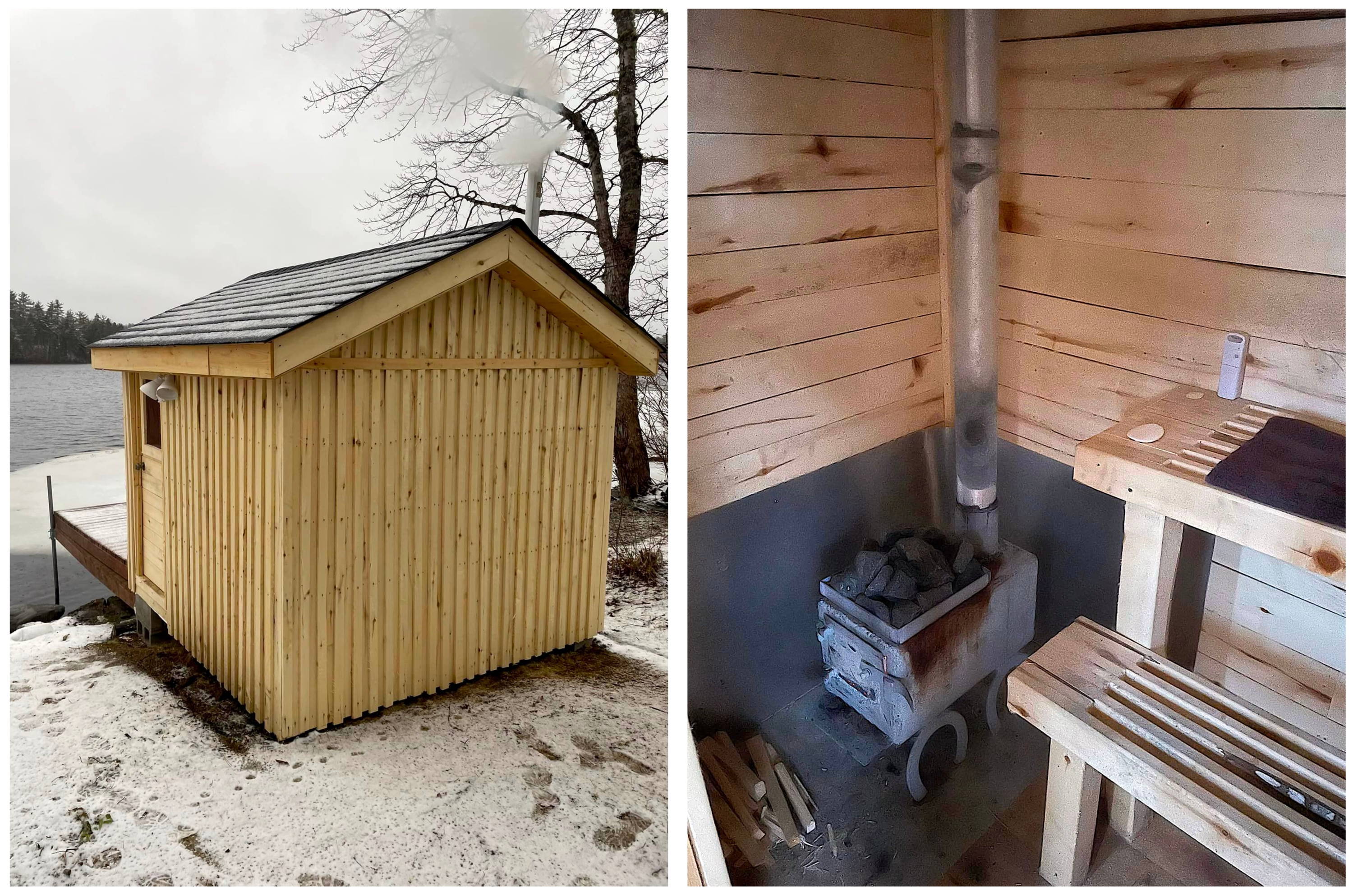 The next project came out of necessity. A friend was upgrading his game room and offered Chris a free golf simulator. For fear of putting a golf club through his living room ceiling, Chris decided the only responsible thing to do was to construct a custom building for the simulator. The 16'x20' structure has 10' ceilings and fits four golfers comfortably. There are no windows by design to keep it dark enough for the projector and it is well insulated for those cold winter days.
Chris attached a home office to the back so that he can easily play a daily round of golf during his lunch breaks. He cut all the lumber on his HM122 including many 2"x6" boards for the walls and a large supporting beam down the centre of the ceiling. It was a very rewarding project for Chris and his father even popped in to lend a hand. Now that it's done, all he has to do is keep the beer fridge stocked and see if his golf game improves. The best part is that he never has to book a tee-time!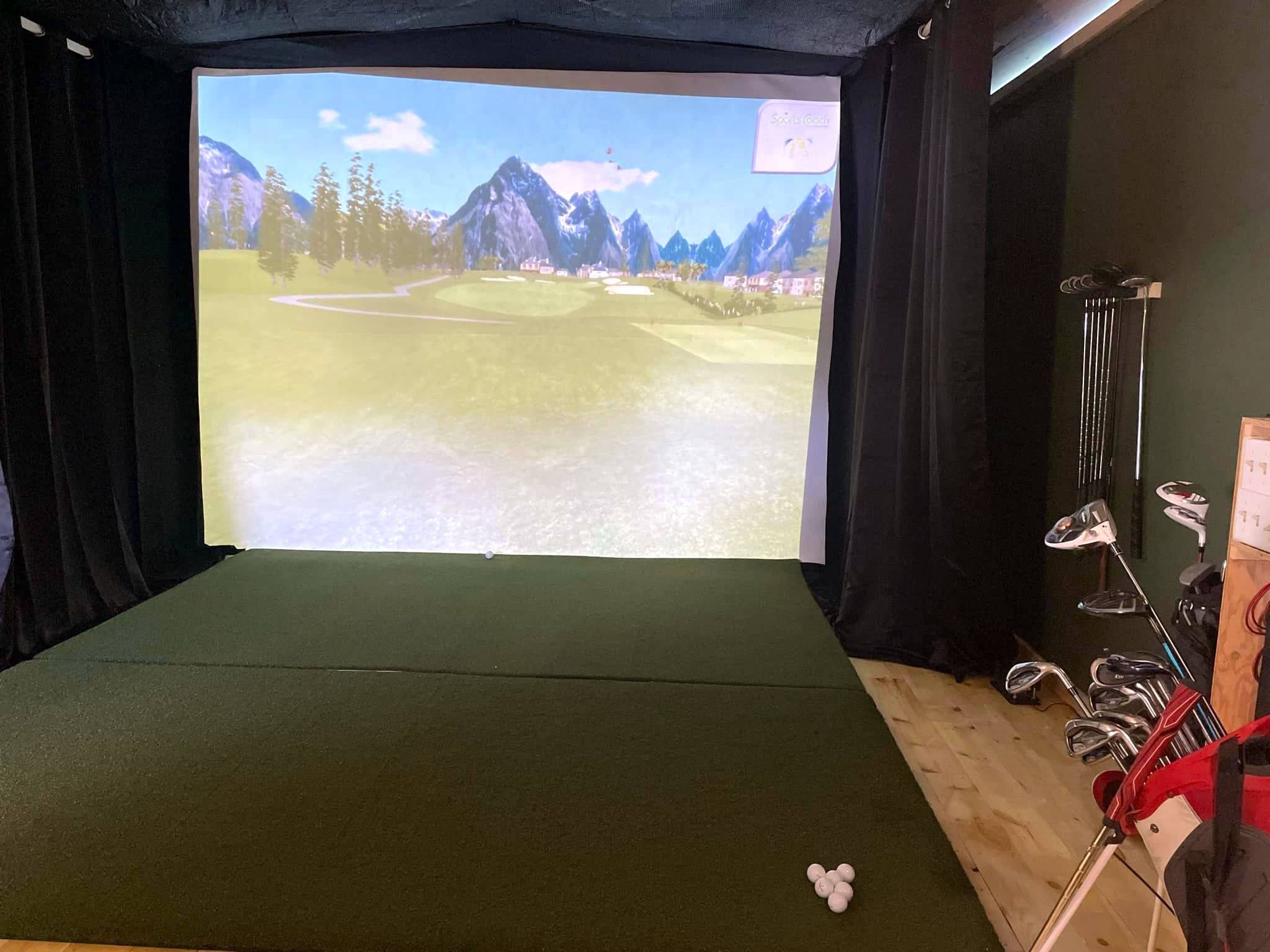 Chris has used his sawmill to replace some of the floors in his home and assist with other repairs, but the house really needs to be torn down and rebuilt completely. He and Sasha will likely wait for a few years until their nest is empty to tackle that project. In the meantime, Chris is designing an off-grid cabin that he and Sasha can live in during their house build. The two own a few different properties totaling roughly 100 acres of wooded land and plan on putting the cabin on the closest property to their home. Chris enjoys cleaning up the forest on his property and managing the very thick woods found in Nova Scotia.
Chris lives his life ready to tackle any project that comes his way. Working with his dad gave him a wealth of experience and anything he doesn't know how to do, he learns. His HM122 has given him the freedom to create anything he can think of. Life in the Nova Scotian cottage country is filled with everything he ever wanted; fun, family, and fresh air.