In Central Pennsylvania lives Greg, a family man who enjoys many creative interests from cooking to writing. Greg has found a way to use his HM126 portable sawmill to turn one of his hobbies into a fulfilling business venture. Greg uses his HM126 to bring furniture designs, timber framing, and other woodworking creations to life.
Woodworking is a hobby that Greg is quite good at. When he and his wife bought their house 5 years ago, he started doing some remodelling. It began with handrails and eventually, Greg was adding hardwood furniture to the décor.
Greg found it difficult to source enough good-quality lumber for his projects. He would spend hours at his local home improvement stores searching through the lumber racks for the best pieces. A little over a year ago, Greg found a solution to that problem when a tree fell on his property. He wanted to make use of the wood so one of his customers offered to lend him a bandsaw mill and the rest is history.
Greg is a researcher by nature, so he familiarized himself with the portable sawmill market before deciding that Woodland Mills was the best value out there. His decision to purchase from Woodland Mills was based on the positive reviews that he found online, specifically about the customer service and the sawmill's easy assembly. He ultimately chose the HM126 for its size and the 14hp Kohler engine.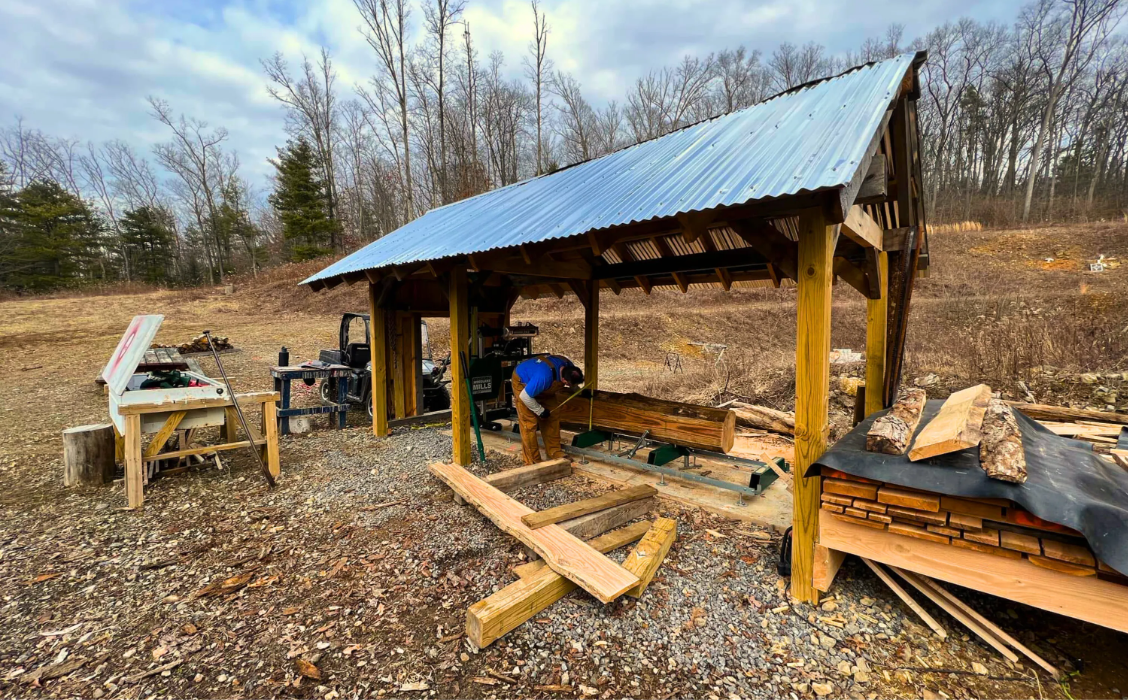 No one in Greg's life was all that surprised when he bought a sawmill and he soon had friends dropping off free logs for him to mill. Between that and the many cherry, hickory, and oak trees growing on their 8-acre property, the HM126 stayed very busy. With a sudden influx of lumber at his disposal, the project possibilities seemed endless.
Greg found inspiration everywhere he looked and began carrying a sketchbook with him to jot down ideas. No idea was too big for Greg who was raised to believe that you can do anything you put your mind to.
That confidence was put to use when Greg took a trip to Wisconsin. While touring the library in the Yerkes Observatory, Greg sat on a particularly comfortable couch. He measured the sofa using a 6-inch ruler that he had with him and took down the dimensions in his sketchbook which he used to recreate the piece when he got home.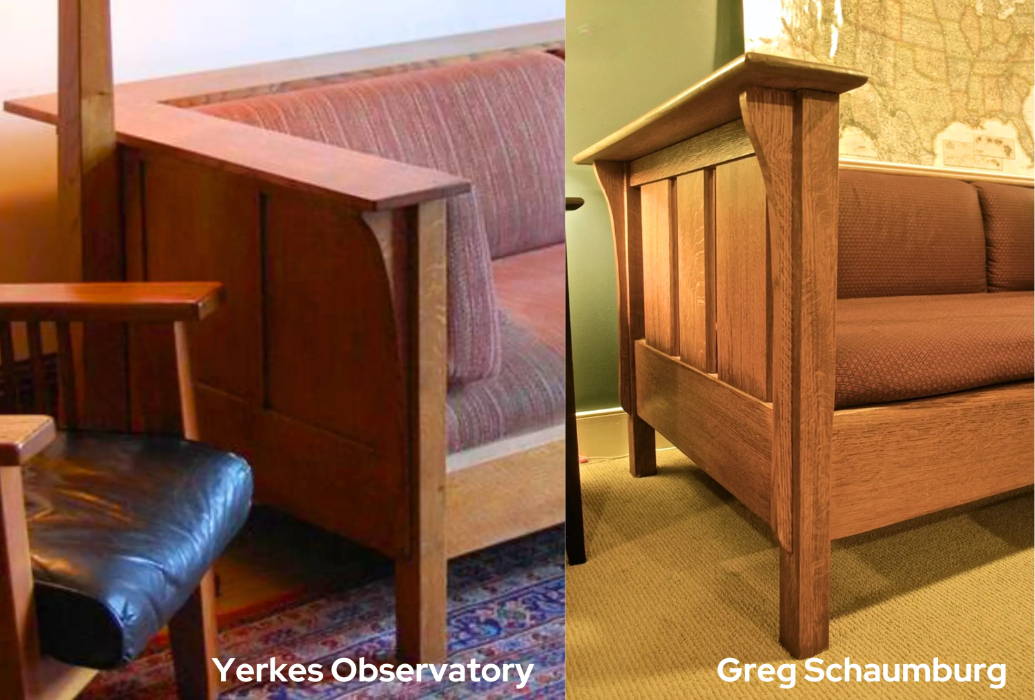 Greg collects inspiration from everywhere he goes and turns it into beautiful pieces of furniture for his growing list of clients. No two projects are the same, from a cherry bookcase to a 7-foot-tall mission-style wardrobe that looks like it might transport you straight to the land of Narnia. Greg is also very talented at timber framing and has designed many beautiful structures that he showcases on his website.
Greg likes to mill his lumber in big batches, use what he needs for his projects, and sell the rest through his company Marengo Pass. He wants to make quality lumber more easily available to carpenters like himself. This is also where he advertises his "Tree to Table" furniture.
Community support is something that Greg values greatly. He loves to help his fellow woodworkers get the quality lumber they need at the best price. He's a generous guy and has a "pay-it-forward" attitude with any favour he gives. Greg has found that he fits in well with the Woodland Mills Product Owners & Community Facebook group. It's a great place to get advice from fellow sawyers and is filled with others who are eager to share their ideas and help one another.
Although Greg runs his business part-time, it will give him the option to retire early and continue to design and build furniture. He is passionate about what he makes and has a high standard for quality. He calls it his "heirloom furniture" because he fully expects that it will all be around long after he is gone. Most hobbies cost money, but in Greg's case, he was able to make it into a fun and helpful business.