$199 Flat Rate Shipping (No Trailer)
$399 Flat Rate Shipping (With Trailer)


The HM136MAX™ is the ultimate solution for cutting wide live edge slabs, perfect for tabletops, counters, benches, and more. It features our Fullcut™ sawhead, which matches a 36" (91 cm) diameter log capacity with a 36" (91 cm) cut width, ensuring your logs' widest assets are left intact.
Built with a heavy-duty 4-post head design and a reinforced welded back beam, the HM136MAX™ guarantees a solid foundation for powerful cutting, driven by a high-output 21 HP Honda GX630 V-twin engine.
This mill comes packed with innovative standard features, including an automatic gas and go blade lubricant system that activates when the throttle is engaged, and the RapidChange® blade system for quick, tool-less blade changes. The HM136MAX™ Portable Sawmill is designed to be the most affordable and robust wide-cut sawmill in its class.
Go Mobile with the Woodlander Trailer
The HM136MAX™ Woodlander® packages our widest capacity sawmill with our heavy-duty trailer assembly, giving sawyers mobility, comfortable operation height, and easy storage. It can cut up to 16' 11" (5.1 m) long with the XL trailer and 10' 5" (3.1 m) long with the standard trailer. The HM136MAX™ Woodlander® sawmill is designed to be the most affordable and robust wide-cut mobile sawmill on the market.
The Woodlander trailer is available in two cut lengths: Standard -10' 5″ (3.1m) and XL - 16' 11" (5.1m). Additional extensions cannot be added to the XL trailers.
WIDE-CAPACITY FULLCUT™ SAWHEAD
---
Unlock the full potential of your logs with the HM136MAX™! It features our Fullcut™ sawhead, which matches a 36" (91cm) diameter log capacity with a 36" (91cm) cut width, ensuring your logs' widest assets remain intact. Create stunning high-value live edge boards with unmatched efficiency.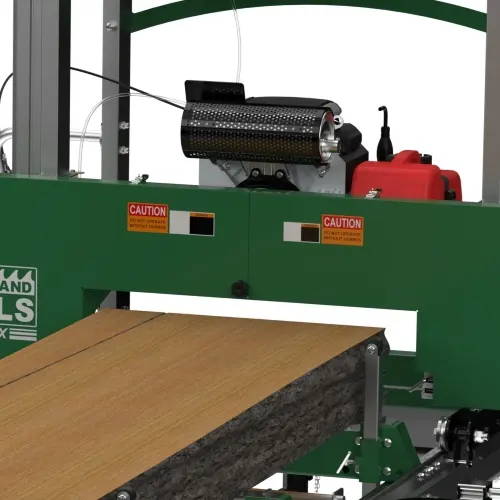 INDUSTRY-LEADING POWER SOURCE
---
The HM136MAX™ is powered by the reliable 21 HP Honda GX630 V-twin engine. With racing-inspired technology, the GX630 is smooth and exceptionally quiet. Our engineering team worked with Honda to ensure that their engine and our sawmill were a match set, both for the workload that needs to be done and the conditions we're asking it to work in.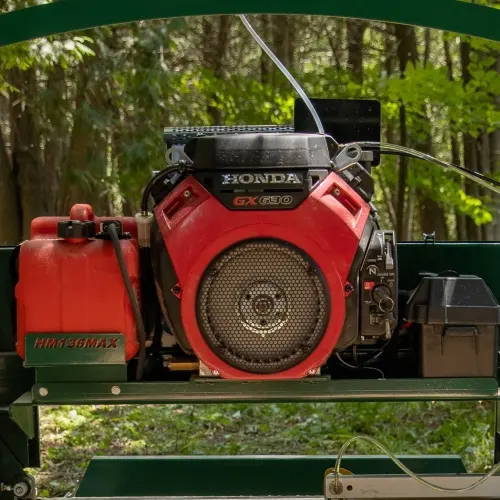 HEAVY-DUTY 4-POST CARRIAGE ASSEMBLY
---
Our heavy-duty 4-post head design is reinforced with a laser-cut welded back beam and top tubular crossbeam providing superior structure to the sawhead. The assembly is anchored between our precision laser-cut carriage side plates, to provide exceptional rigidity, and ensure smooth, accurate cuts.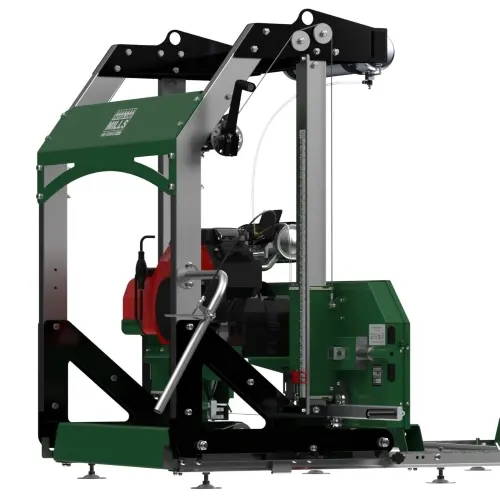 GAS AND GO AUTO LUBE SYSTEM
---
Every one of our sawmills features a gas and go auto lube system. This means the throttle handle engages the engine RPM, saw blade, and patented auto lube system simultaneously. This system makes the process of cutting lumber quick and efficient and reduces the number of steps required by the operator.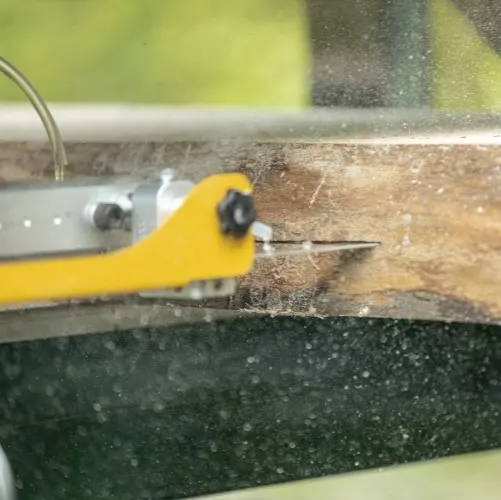 ---
Our sawmills are equipped with a weather-resistant aluminum lubricant tank, ensuring long-lasting performance in the most adverse conditions. The tank's needle valve allows precise control over the flow to the auto lube valve, enabling fine-tuning as needed.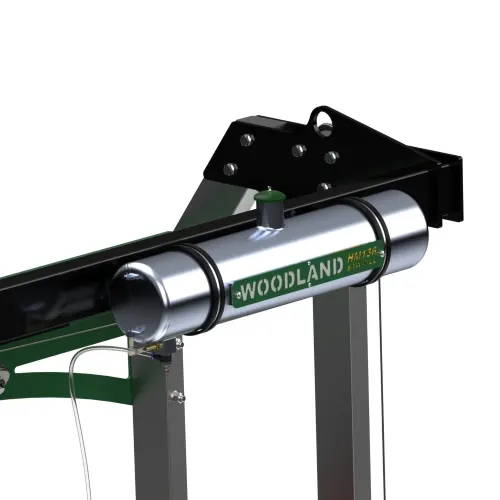 CONSTANT-PRESSURE SAWHEAD U-BUSHINGS
---
We've designed a unique constant-pressure U-bushing that facilitates a positive connection between the sawhead and the carriage posts while allowing the sawhead to move up and down smoothly. The U-bushings are constructed from glass-filled nylon, giving them a long service life.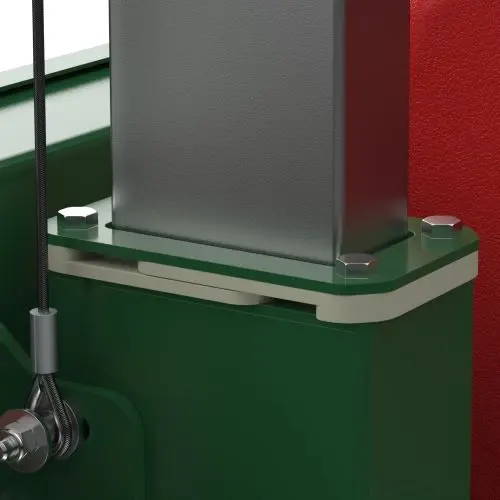 RAPIDCHANGE® BLADE SYSTEM
---
The RapidChange® blade system is exclusive to Woodland Mills. RapidChange® is a tool-less approach for changing blades quickly that reduces the need for blade tracking adjustments between blade changes. Stacked Belleville washers act as a shock absorber for the blade while giving consistent blade tension in all temperatures, ensuring less stress on the blades.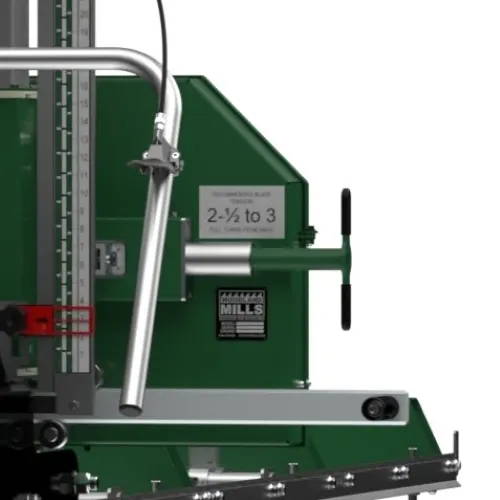 DUAL RACE BEARING CARRIAGE WHEELS
---
The saw's carriage wheels have a dual race bearing. This provides the best connection between the rolling wheel and the track surface, to ensure stability from the wheels to the track to the sawhead. The radius profile in the groove and the square-topped tracks are designed to wear together to make a matched set over time. To keep the track free from debris, stainless steel wire sweepers clean the track while in use.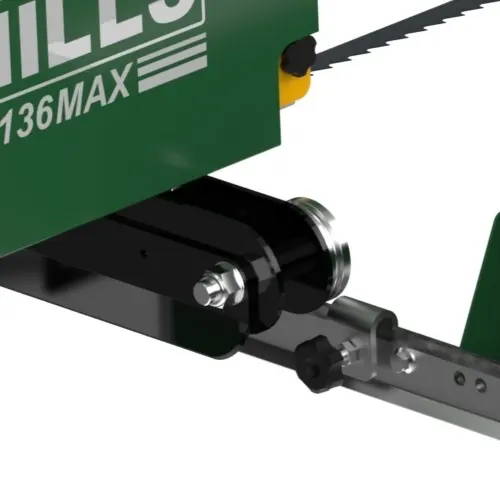 ---
To reduce your assembly time, we carefully pre-assemble key components of the sawhead. Having the advantage of pre-assembled parts means you could be milling by the end of the day, instead of the end of the weekend!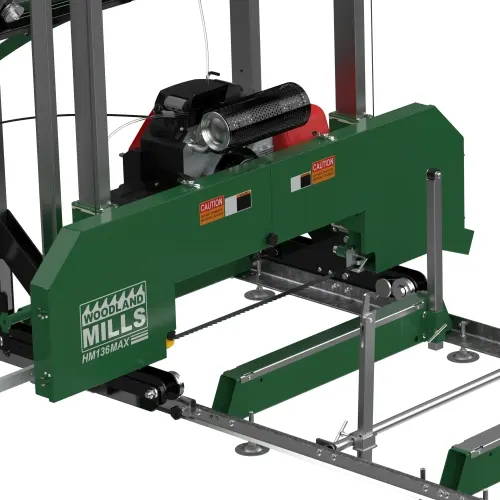 POWDER-COATED STEEL BLADE GUARDS
---
Our blade guards are built with durable, powder-coated metal for resilience and longevity. For added convenience during sawhead maintenance or blade changes, the guards are side hinged, allowing them to easily move out of the way and provide unobstructed access.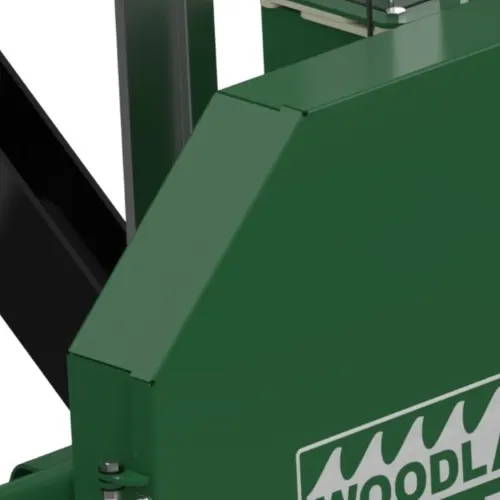 ADJUSTABLE THROTTLE CONFIGURATION
---
Our adjustable throttle assembly offers complete customization for individual needs. You can position both the throttle and push handle according to your preference based on track height, ensuring a comfortable operating experience.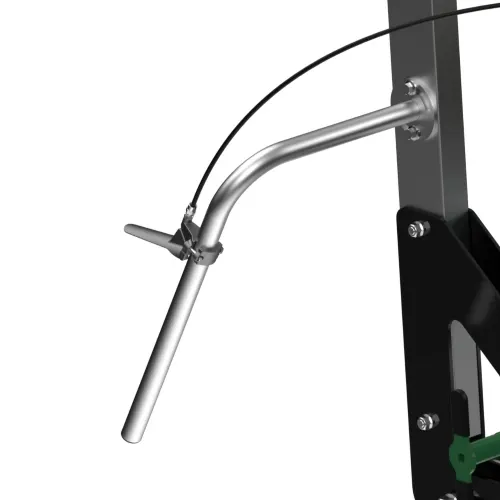 EXPANADABLE RIGID TRACK SYSTEM
---
The sawmill head rolls along a rigid machined L-channel, cross supported with heavy-duty 3" x 6" (75 x 150 mm) rectangular log bunks. These cross supports ensure the weight of the log is dispersed over a large bearing surface to avoid marking the log with indentations and provide additional rigidity to the track system. Our mills are designed to cut logs up to 10' 5" (3.1 m) long using the standard track configuration. You can unlock unlimited length potential by adding optional 6' 5" (1.95 m) track extensions. These extensions come with an extra log clamp assembly, log support, and required bunks, allowing you to customize the cutting length to your specific requirements. The track comes with 12 levelling legs with up to 4" (10 cm) of adjustment.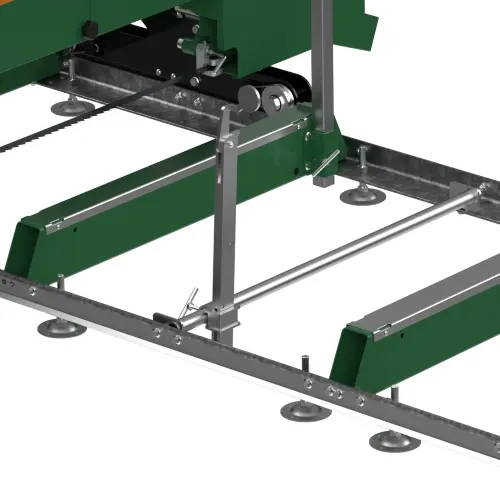 GO MOBILE WITH WOODLANDER® TRAILER PACKAGE
---
Move your HM136MAX™ between locations with the Woodlander® trailer. Packaged together, the HM136MAX™ Woodlander® trailer gives you a better working height and provides you with mobility to bring the sawmill to different work sites or easily move it into storage. Levelling jacks are provided so you can quickly level the trailer and tracks when deployed.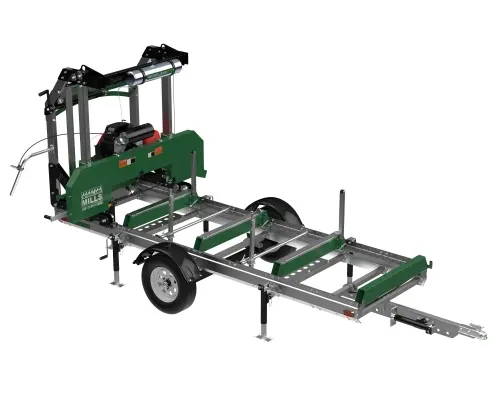 AUTO-LOCKING ADJUSTABLE BLADE GUIDE
---
The premium Auto-Locking Adjustable Blade Guide is constructed using stainless steel V-rollers and a matched machined aluminum arm to keep guides close to the wood being cut and reduce blade wander.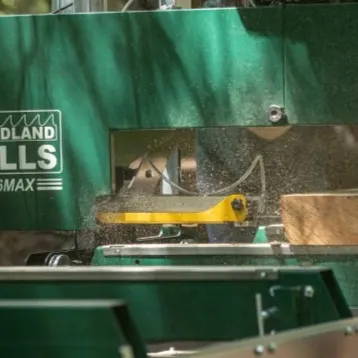 ---
The auto-locking sawhead ensures precise and consistent control. Simply push the handle in and rotate through 16 locking locations to move the sawhead up or down. Coupled with an Acme lead screw, you'll get precise adjustments accurate to within 1/64". Traditional magnetic log scale rulers are also included to line up precision cuts.
QUALITY & CUSTOMER SERVICE
---
At Woodland Mills, we put our customers first. If you have any questions about a product you purchased, you can contact us at 1-855-476-6455. The HM136MAX™ is backed by a 2-year manufacturer's warranty (excludes wearing parts, belts, blades and bearings). The Honda engine is covered by a 3-year commercial manufacturer's warranty, honoured at any Honda small engine dealer.
Engine:

21 HP Honda
Blade Engagement System:

Centrifugal Clutch (Gas & Go)
Log Diameter:

36" [91 cm]
Max Cut Width:

36" [91 cm]
Max Board Thickness:

8.5" [22 cm]
Cast Iron Bandwheel Diameter:

19" [48 cm]
Standard Cutting Length:

10' 5" [3.1 m]
Track Width:

45.3" [115 cm]
Track Extension Length:

6' 5" [1.95 m]
Levelling Feet:

12 Galvanized
Track Rails:

Yes
Track Bunks:

3 x 6" [75 x 150 mm]
Log Clamps:

2x Quick Lock
4 Post Head Design:

Yes
Adjustable Blade Guide:

Yes
Blade Size:

173" x 1.25" [4394 x 32 m]
RapidChange Blade System:

Yes
Auto Lubrication:

Yes
Lubricant Tank Size:

13L [3.4gal]
Aluminum Hour Meter:

Yes
Finish:

Powder Coat Paint / Galvanized Steel
Sawmill Warranty:

2-Year
Engine Warranty:

3-Year
Product Weight:

1240 lb [562 kg]
Shipping Weight:

1436 lb [651 kg]